I am a non profit concern. The proposal to set up Older Citizens blogging requires nothing except your time. I am offering a free service to facillitate this.
Older Citizens Blogging
About and Idiosyncrasies
dot com

I write domains as "example dot com" when I want to tell people of a site where there is no need for a link. We sub vocalise when we read which is a memory aid. Of course when we say a web address this is how we say it. It is appropriate when an html link is not appropriate. My first gTLD (global top level domain) is IrishSecure dot com and I have had it since 1998. You can visit it if you like but there is no need for a link. There is also the practice in some platforms and blogs that if you put in example.com it automatically becomes a clickable link. Maybe its idiosyncratic but there seems to be no research on how to remember a web address? It would be easy to set up an experiment to test my theory. Give one group a list of web addresses with words example dot com and the control group example.com and see who remembers more.
Experience
I have an honours science degree in Psychology and I am a trained counsellor. I have a masters degree in Social Work. I worked as a Probation Officer for ten years in inner city high crime patch in London. I had 3 murderers on my caseload. I set up and ran an alcohol abuse training course that the courts could sentence to. I did 14 hour shifts in a secure bail hostel on my own. For two years. My reports were used to train magistrates.
I have been around the world, mostly overland. It took ten years. I went to India via the Nile…true story!
I am bipolar.
I have survived lung cancer.
Computing
I had my first computer in 1981. In 1986 I helped programme and install a networked touch sensitive computer system for Manpower Services Commission a British government body to access a database, in real time, of job vacancies nationwide. In those days the "computer scientists" in MSC were a bunch of psychologists, the only ones to understand the system. It is now (?) used in every job centre in England well that was in the days of MSC now gone *sigh*.
In 1994 I built my first PC from scratch. In 1996 I set us up as an ISP (Internet Service Provider) with two web servers and two name servers which were built from scrap. We had a Silicon Graphics work station as used by NASA to control the Mars lander. In 2000 we offered secure wireless Internet access to the whole town of Tullamore in Ireland. In 2006 we went bust through lack of support and repercussions of the dot com crash.
My YouTube channel which I set up in 2008 has had over 100k views and there are over 400 videos. I have published over 80 documents (not all mine) on Scribd  which have had over 60k views. My major sites have a library of select books all out of print copies I have found, including James Joyce Ulysses, Moby Dick etc. available to read online or download. It's on this site too as I love it so.  My blogs have over 6k subscribers.
Currently I operate a rented web server and name servers and have 25 gTLDs and untold WordPress blogs. The blog linked below took a week to set up including content.
I know what I am doing.
If you don't blow your own trumpet will someone else? Older Citizens should have a voice, my aim is to give them one.
Older Citizens dot com
Our brains still work
"The good news is that far from slowing down in old age, the brain can actually keep growing new dendrites, which are the connections between neurons. Old brains are as plastic as young brains; in fact, the connections between the two hemispheres of our brains become better integrated with age……"
Dr. Natash Josefowitz "On becoming 90" Huffington Post
Yet there are some failings as Dr.Josefowitz points out in the excellent article. I find, myself, memories of 50 or more years ago can be quite fresh but I forget the password I created 5 minutes ago AND I am only 67. I use sticky notes on my computer to remember stuff. So clearly things aren't perfect. However it doesn't stop me. My email box is littered with "password reset" notices. No big deal. This has been recognised by the powers that be and I can log on using a one click Facebook login.
You can teach an old dog new tricks
I blog a lot and I find it keeps my brain ticking over nicely. I learn new stuff everyday and the important bits I retain. So the idea that learning stops at a certain age is a fallacy. So with this in mind I decided to teach blogging to older citizens and that it can be done. There is a noticeable lack of older citizens blogging and this needs changing. It helps greatly that with a computer and access to the Internet this is not difficult. It could be done in a library, It takes minutes to set up a wordpress blog. When you are in wordpress dot com "If it doesn't exist register it" . How Zen! People use their name which makes it easy to remember. Given that there are there are approximately over 150 million blogs on the Internet getting a name may pose some problems however marionjwinslow for example or billwatkinssuperblog are probably available. Just need a bit of imagination.
Capitals are ok
The web treats capitals as lower case so when you are writing the name of your blog you can write it as MarionJWilson or BillsSuperBlog which makes it that more memorable when people read it. They don't have to write it in capitals as a link BUT IT MAKES NO DIFFERENCE! So be imaginative and you can write a short but memorable sentence. MaybeOldButWhoCares is a potential blog address, it is memorable and that is the important thing. When chatting with friends you can say "MaybeOldButWhoCares dot wordpress dot com" and they will remember it. (By the way the teaching blog I have set up on wordpress is 100% free and there is no reason to spend any money).
Imagination

Research
After an extensive trawl I can find no research that has investigated cognition and blogging in the older citizen. Nor the potential impact on feelings of isolation and exclusion. Nor on the potential impact on family life. If a persons mother starts putting up pictures of when they were a child or writing about a holiday they had in 1965; anything that gives the son or daughter an historical perspective will bring families closer.
I have a very old family album which goes back to 1949 – 1952 and I used my camera phone to take a picture of the photograph. I then uploaded it to my computer and added it to my blog. Any family picture can be put in a blog.
A free wordpress blog is there in perpetuity not so people. If you have left a blog as a legacy how uplifting it can be. There needs to be research on the impact of blogging on mood. As the population ages, older citizens are a potential resource that shouldn't be ignored.
Me and Mum 1949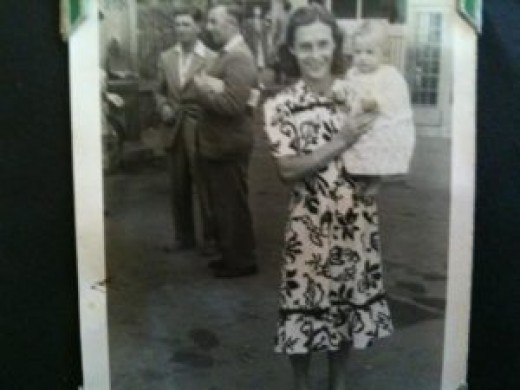 The good old days
I read an interesting article on Facebook by an 86 year old who was lamenting the passing of an age in England that was post WW2 a time of the creation of free health care, a boom in affordable housing, education blossoming and freely available work. Its on my blog. After watching I, Daniel Blake it makes you wonder about the value we put on citizens today. Older citizens can take the values of yesterday and resurrect them for today's generation and demand a return to things we hold dear. Compassion and honesty being the watch words. Daniel Blake received no compassion.
Older Citizens on WordPress.com
So I have set up a teaching blog for getting older citizens blogging. I have used video extensively with text support; a complimentary oldercitizens dot com and a quick start dot org. I am in the process of propagating it globally (why not?) and have plans to set up complimentary country sub domains on the dot com. It took me a week to set up the three sites including content so not much reaction yet. This is a free service not a business. No profit is being asked for nor made. Below is a video I made for adding your first post. Please watch full screen.
Setting up WordPress (8mins)
Watch full screen.
The Blog
There are four main sections to get you started all with text and video.
Setting up and registering your blog
Your first post
Inserting an image and embedding a video
Changing the theme
There are also sundry pages:
Contact
Useful Programs including the free Microsoft Expression Design image editor
A page on Widgets
And a Library of books (pdfs for online reading or download) which I love and put on all my sites including this one.
About Me
Yes a weeks work indeed…..
Older Citizens Blog
Older Citizens dot org
I have set up a Quick Start guide on http://OlderCitizens.org and I am offering free email addresses to older citizens or carers who would find it useful. I am not daft and there will be a test!
High hopes
This may take some time but having retired I have time, its a hobby as well as I hope a valued service. Getting noticed on the Internet is not easy and I know this. I put up my first web page in 1996 (its still there in Archives) and during a five year period as an ISP (Internet Service Provider) I am no stranger to the web. I rent my own web server and name servers so I know what I'm doing. The cost is minimal, a few Euro a week. What I am doing now is spreading the word so please visit the site leave a comment or fill out the form provided. I need feedback so I can improve. Nothing is set in stone and I will respond to both criticism and praise but I have high hopes. Please leave a comment or fill out the form below with your question or query. be great to hear from you